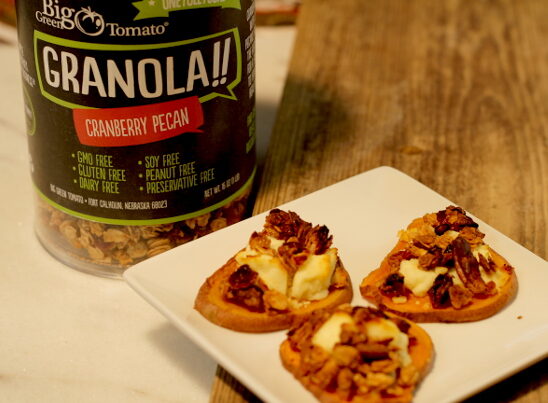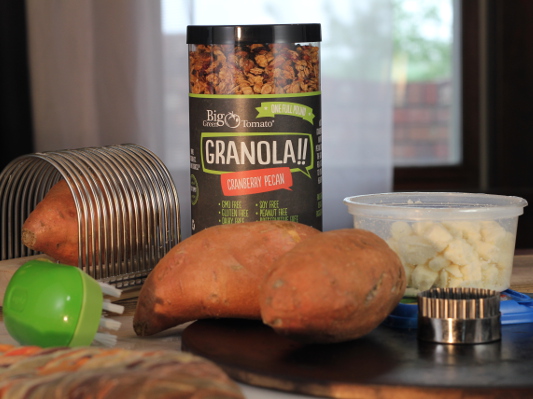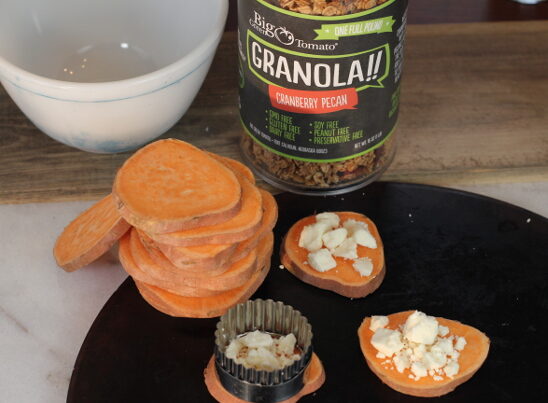 Sweet Potato Rounds
Why We Love This
By fork or by finger, this simple first course is an eye-catching start to the evening with friends and family.
Credit: Michelle
Gluten Free
Peanut Free
Soy Free
GMO Free
Refined Sugar Free
Heart Healthy
Low Sugar
Low Carb
Low Glycemic Index
Low Fat
Provisions
2 large sweet potato peeled and sliced into ¼-inch rounds
1 tablespoon olive oil
1 cup feta cheese
1 cup Big Green Tomato® Cranberry Pecan Granola
Serves: 6
Directions
1) Preheat oven and pizza stone to 400 degrees.
2) Once the oven is hot, remove the pizza stone and set near your bowl.
3) Over the small bowl, drizzle the olive oil over your hand and proceed to rub the oil to both sides of each round.
4) Arrange rounds on the pizza stone. Bake for 20 minutes.
5) Remove from oven and flip the rounds. Spoon the feta and Big Green Tomato® Cranberry Pecan Granola onto each round.
6) Bake another 20 minutes until the feta starts to brown.
7) Remove from oven and serve.
Variations
Any variety of salty, strong cheese will give this sweet and earthy dish the perfect balance. Try a Maytag cheese and serve with an ice cold martini on a Friday night.
Pro Tips
Use a Hassleback form to slice perfect 1/4 inch rounds.
A form, such as a biscuit cutter, will keep the cheese and Granola on the rounds and make for quick and easy assembly. Even an empty can with both top and bottom removed, works great.
Make sure your pizza stone is well seasoned to prevent the rounds from sticking to the stone.
No pizza stone? Use any baking sheet covered in foil to make for easy clean up.