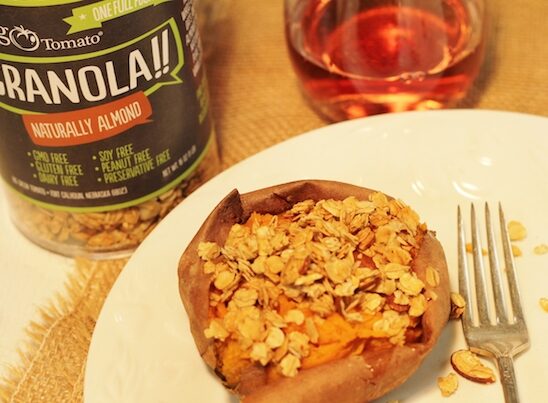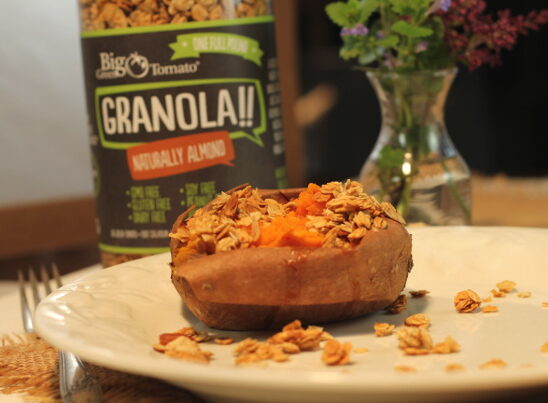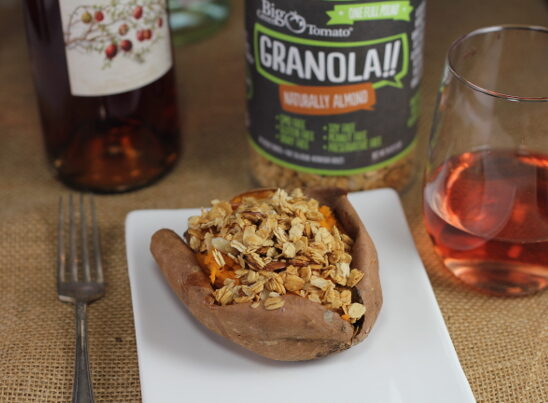 Crispy Baked Sweet Potato
Why We Love This
I am the only person in my family that likes sweet potatoes. Since I eat them almost never, I tend to forget how much I like them. This is an easy side or the main dish for Meatless Monday that takes virtually no active cooking time and can even be made ahead of time.
Credit: Michelle
Gluten Free
Peanut Free
Soy Free
Dairy Free
Sodium Free
Refined Sugar Free
Heart Healthy
Low Sugar
Low Carb
Low Glycemic Index
Low Fat
Vegetarian
Kid's Cook
Make Ahead
GMO Free
Provisions
2 Medium Sweet Potatoes
2 Tbls Coconut Oil or Butter (optional)
1 Tsp Olive Oil (optional)
½ Cup Big Green Tomato ® Naturally Almond Granola
Nutrition
Sweet potatoes are one of the healthiest foods in the world. It is low in saturated fat and has zero cholesterol or trans fats. It is also a good source of dietary fiber and vitamin C, and a very good source of vitamin A and manganese.
Calories: 338
Dietary Fiber: 6g
Total Sugars: 13g [Natural from Sweet Potato: 7g]
Glycemic Value: 19
Vitamin A: 438%
Vitamin C: 37%
Calcium: 6%
Iron: 9%
Magnesium: 16%
Potassium: 18%
Serves: 2
Directions
1) Heat oven to 400 degrees and line a baking sheet with foil.
2) Pierce each sweet potato five or six times with a fork. Lightly coat each with olive oil (optional).
3) Bake for 55-60 minutes and remove from the oven. Sweet potatoes are done when a fork can easily move through the skin and its meat.
4) When cool enough to touch (approx. 15 minutes), place the potatoes in their final serving dish. Make two deep slices as an "X". Use your fork to mash and fluff the potato in its skin.
5) Top each with 1 tablespoon of coconut oil or butter (optional) and a ¼ cup of Big Green Tomato ® Naturally Almond Granola.
Variations
My favorite topping on a sweet potato is the simple Naturally Almond but sometimes I crave the taste and aromas of fall and that's when I use the Cranberry Pecan.
Pro Tips
Make sure either the baking sheet has a rim or your foil is turned up around the edges. Sweet potatoes create a sticky syrup when heated that will create a mess on your baking sheets. The rim keeps it contained and the foil makes for easy clean up.
Prepare your potatoes the night before. Before leaving for the day, place them in the oven and set your oven for a delayed start. Dinner is ready when you walk in the door.
Sweet potato skins are often overlooked as a great source of nutrition. To make it more palatable, make sure to rub your sweet potatoes with olive oil before baking.
Kids Cook Tips
While this is easy enough for kids to cook, make sure there is appropriate supervision when handling the sweet potato coming out of the oven. The hot sticky syrup it creates needs extra caution because unlike a simple burn from touching something hot, the hot syrup will remain on the skin until it can be washed off.